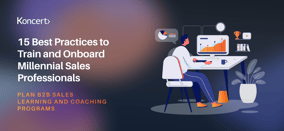 Download for free today
15 Best Practices to Train and Onboard Millennial Sales Professionals eBook
Plan B2B sales learning and coaching programs for millennial sales representatives.
Whether you're a brand-new sales representative, Sales Development Rep (SDR), Business Development Rep (BDR); a seasoned rep; or you're in marketing and looking to understand your sales team a little bit more and/or write content that speaks their language, we're here to help you.
Download this eBook to learn how to:
Train and onboard millennials in a way that helps them succeed

Add your company's mission into your sales training
Create sales training content that millennials will use
By filling out this form, you agree to receive mailings from Koncert.