ConnectLeader®, developer of Personal Dialer® and Team Dialer® sales dialing solutions, today announced it has achieved Gold Partner status in Oracle PartnerNetwork (OPN). By attaining Gold Level membership, Oracle has recognized ConnectLeader for its commitment to establish Oracle related knowledge in delivering sales dialing technology and solutions, and for uniquely addressing the challenges of joint customers.

Attaining Gold Level status in OPN will allow ConnectLeader to expand their business and provide a high level of support to users of Oracle CRM On Demand.
The ConnectLeader Sales Dialing Platform can enable Oracle CRM On Demand users to increase their outbound calling productivity by achieving more live conversations with prospective customers in less time. Users can create custom views within Oracle CRM On Demand and upload them directly into ConnectLeader. The ConnectLeader Personal Dialer solution automates the dialing process, allows sales reps to deliver pre-recorded voicemail messages, record activities, schedule follow ups, and connects calling and activity data with Oracle CRM On Demand. The Team Dialer solution extends the software by providing a team of human dialing agents to perform the non-productive dialing and call navigation tasks.
ConnectLeader is excited about its Gold Partner status in OPN. This recognition validates our commitment to work cohesively with Oracle CRM On Demand," stated Senraj Soundar, CEO/CTO of ConnectLeader. "Companies like Denovo, a full service application and technology consulting firm, can benefit from ConnectLeader achieving Gold Partner status in the Oracle PartnerNetwork."
"A great benefit to ConnectLeader is the ability to demonstrate our commitment to support Oracle users," said Mark Lynch, Director of Business Development at ConnectLeader. "It is a real honor to achieve Gold Level status and contribute to the OPN community."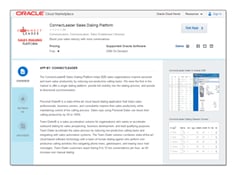 With its Gold status, ConnectLeader receives the benefit of being able to start developing specializations that will allow them to grow their business, increase their expertise, reach higher levels of customer retention, and create differentiation in the marketplace. Gold members also become eligible to resell all Oracle Technology products and can apply to resell Oracle Applications and Industry Solutions. In addition, they receive access to Oracle account representatives and My Oracle Support updates for all products, discounts on training, limited free assessment/exam vouchers, reduced rates on the purchase of Oracle licenses for internal use, discounts on advances customer services and more. For more information about the benefits of becoming an OPN Gold level partner, please visit: http://www.oracle.com/us/partnerships/index.htm
About ConnectLeader
The ConnectLeader® Sales Dialing Platform helps B2B sales organizations improve personal and team sales productivity by reducing non-productive calling tasks. We were the first in the market to offer a single dialing platform, provide full visibility into the dialing process, and provide bi-directional synchronization with CRM software.
Personal Dialer® is a state-of-the-art cloud based dialing application that helps sales professionals, business owners, and consultants improve their sales productivity while maintaining control of the calling process.
Team Dialer® is a sales acceleration solution for organizations who wants to accelerate outbound dialing for sales prospecting, business development, and lead qualifying purposes. Team Dialer accelerate the sales process by reducing non-productive calling tasks and integrating with sales automation systems. The Team Dialer solution combines state-of-the-art cloud-based software technology with a team of human dialing agents who perform non-productive calling activities like navigating phone trees, gatekeepers, and leaving pre-recorded voice mail messages. www.connectleader.com

ConnectLeader, Team Dialer, and Personal Dialer are trademarks of ConnectLeader LLC.
About Oracle PartnerNetwork
Oracle PartnerNetwork (OPN) Specialized is the latest version of Oracle's partner program that provides partners with tools to better develop, sell and implement Oracle solutions. OPN Specialized offers resources to train and support specialized knowledge of Oracle products and solutions and has evolved to recognize Oracle's growing product portfolio, partner base and business opportunity. Key to the latest enhancements to OPN is the ability for partners to differentiate through Specializations. Specializations are achieved through competency development, business results, expertise and proven success. To find out more visit http://www.oracle.com/partners.
Oracle and Java are registered trademarks of Oracle and/or its affiliates.
About Denovo
Denovo is a full service application and technology consulting firm committed to making clients operationally stronger. Through the success of providing innovative solutions to our clients Denovo expanded its technology and business solutions to include Outsourcing and Cloud Computing. We combine world-class enterprise system implementation, integration and cloud services expertise with a deep understanding of business processes and industry best practices to build better business solutions. We have a strong heritage in tier one enterprise and third party software implementations. Our team of over 120 highly experienced Oracle / JD Edwards consultants and industry leading Process Before Technology™ methodology provide a proven, cost-effective combination to deliver solutions that drive better business results. www.denovo-us.com
Trademarks
Oracle and Java are registered trademarks of Oracle and/or its affiliates
All brand names and product names are trademarks or registered trademarks of their respective companies.