Salem, NH — June 23, 2016 —ConnectLeader, a leading innovator in sales acceleration technologies used by B2B sales reps to accelerate the sales process, announced today that TMC has named ConnectLeader® Intelligent Sales Acceleration Platform as a recipient of a 20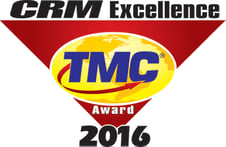 16 CRM Excellence Award. The company received the honor for helping customers' sales reps improve overall prospecting efficiency while scheduling more qualified business appointments in significantly less time. The 2016 CRM Excellence Award is the company's newest industry accolade, recently, Stevie Awards selected ConnectLeader for a Gold award, Best New Sales Automation Solution.
Tweet This: .@tmcnet gives ConnectLeader Intelligent #Sales Acceleration Platform a 2016 #CRM Excellence Award #B2B #Salesforce #outbound
ConnectLeader is a full-featured sales acceleration platform that helps all types of sales roles and tightly integrates with several industry-leading CRM systems, including Salesforce, Oracle Cloud CRM, Microsoft Dynamics CRM, Netsuite CRM, Zoho CRM, and Bullhorn. Judges selected ConnectLeader Intelligent Sales Acceleration Platform from among notable competition--based on its ability to provide unprecedented control of the outbound selling process.
"The 17th Annual CRM Excellence Award honors ConnectLeader for being a true CRM partner to its customers and clients," said Rich Tehrani, TMC's CEO and Group Editor-in-Chief. "ConnectLeader has demonstrated to the editors of CUSTOMER magazine that their Intelligent Sales Acceleration Platform improves the processes of their clients' businesses by streamlining and facilitating the flow of information."
The patented, SaaS solution includes three easy-to-use connect optimization products:
Click Dialer® - Click-to-call software residing within the Salesforce.com that allows users to simply click and dial any listed phone number, take notes, leave voice message, send email, and quickly move onto the next prospect.

Personal Dialer® - Sales dialing software that expands the Click Dialer features to allow users to seamlessly dial using our patented visibility and control capability while dialing —improving sales productivity from 30% to 100% compared to manual dialing.

Team Dialer® - An agent-assisted dialing solution that takes sales dialing to the next level by allowing a group of human agents to make 125-150 dials per hour while filtering through non-productive dialing activities such as navigating voice mail systems, dealing with gatekeepers and leaving voice messages. Using Team Dialer, sales representatives are able to engage in 8 to 12 live conversations per hour with decision makers.
In addition, the company recently announced the availability of Adaptilytics™, a predictive intelligence engine, and Data Genie™, a data-delivery solution.
Adaptilytics™ analyzes, prioritizes, and scores prospecting lists. The new offering further improves outbound prospecting results by enabling users to customize the prediction algorithm based on a prospect's installed technology, intent to buy, contact data and best time to reach.
Data Genie™ is an innovative data-delivery solution that enables ConnectLeader users to add and update accurate contact data directly into their CRM.
"ConnectLeader continues to raise the bar on sales acceleration by combining Big Data analytics with dialing processes, to dramatically shorten lead prospecting time and ensure only quality targets hit the sales pipeline," said Senraj Soundar, Founder and CEO, ConnectLeader. "We are proud TMC has validated our ConnectLeader Intelligent Sales Acceleration Platform as one of the best CRM choices in the industry."
To learn how you can leverage ConnectLeader's data intelligence and calling solutions to improve sales productivity, call 800.955.5040 or email info@connectleader.com.
About ConnectLeader
ConnectLeader provides sales acceleration technologies for all types of sales roles to increase their top line revenue through accelerated communication, reduced costs and optimized marketing resources to be more efficient. The ConnectLeader® Intelligent Sales Acceleration platform gives sales and marketing teams powerful tools to identify and engage high-quality sales prospects and includes sales connectivity optimization solutions for all types of sales and business development teams. This innovative cloud-based technology is built on the ConnectLeader Adaptilytics™ data intelligence engine which identifies and prioritizes outbound calling lists ensuring your best leads are contacted first. For sales teams that want to enrich and improve CRM sales data 'on-the-fly', our Data Genie™ data delivery solution delivers third-party data intelligence directly to your CRM system. To learn more about ConnectLeader's innovation for B2B sales acceleration, visit http://www.connectleader.com.
###
For more information, contact:
Betsey Rogers
Public Relations
BridgeView Marketing
603-886-7087
betsey@bridgeviewmarketing.com